Milwaukee Credit Card Debt Attorney
Chapter 7 Bankruptcy: One Way to Get Rid of Credit Card Debt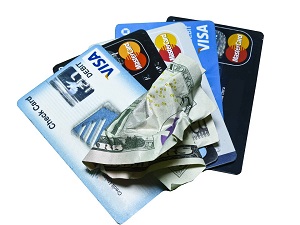 Filing for Chapter 7 can eliminate credit card debt.
In order to make important purchases such as a car or a house, you need to build up your credit to get your rating high enough to be approved for home or car loans. Increasing credit card debt threatens your credit rating. When your credit card debt becomes unmanageable and you cannot pay what you owe, you may want to consider a Chapter 7 bankruptcy.
Credit card debt can—but not always—be discharged by filing for Chapter 7 bankruptcy.
One of the most common reasons people file for bankruptcy is because of out-of-control credit card debt. The Chamber of Commerce found Wisconsin residents owe an average of $6,700 in credit card debt each month. High interest rates can raise the debt and make it harder to pay back. Fortunately, most or all of your nonpriority unsecured debt, including credit card debt, may be eliminated when you file for Chapter 7 bankruptcy.
During hard financial times you may consider filing for bankruptcy to relieve your credit card debt. Oak Creek bankruptcy attorney Steven R. McDonald will guide you through the process to help you get a fresh start.
Popular credit cards used in Wisconsin include:
American Express
Bank of America
Capital One
Chase
Citibank
Discover
MasterCard
US Bank
Visa
Wells Fargo
Schedule a FREE consultation with attorney Steven R. McDonald to see if your credit cards are eligible for bankruptcy debt relief.
When is Credit Card Debt NOT Discharged by Chapter 7 Bankruptcy?
Charging one creditor more than $675 on "luxury" goods or services within 90 days of filing for bankruptcy.

If you have received a cash advance in excess of $950 from any creditor within 70 days of filing for bankruptcy. In regard to the interpretation of "luxury" purchases and cash advances: the burden of proof is on you to prove you thought you could reasonably pay off your debt.

Material falsehood on your credit card application to deceive the creditor, such as falsifying your gross income.

When taxes are paid with a credit card, this credit card debt cannot be discharged.

Discharging credit card debt with bankruptcy only applies to the debtor filing for bankruptcy. It does not include any cosigners or guarantors. Anyone else who is responsible for your credit card charges will still be liable for the debt after you file for bankruptcy.
Chapter 13 Bankruptcy Requires Partial Repayment of Credit Card Bills
Remember that Chapter 7 bankruptcy is primarily a debt liquidation program and Chapter 13 bankruptcy is a debt repayment plan. In the case of Chapter 13 bankruptcy, depending on your disposable income and other factors, you may be required to pay back a certain percentage of your unsecured debts, including credit card debt. Usually, Chapter 13 filers only have to pay a very small portion of their nonpriority unsecured debts, including credit card debt.
How Much Credit Card Debt Do You Have to Repay After Filing Chapter 13 Bankruptcy?
When creating a payment plan in Chapter 13 bankruptcy, credit card debt usually has a low priority compared to other types of debt. Secured debts such as car loans and mortgages, and unsecured debts such as income taxes and back child support are given a much higher priority in a Chapter 13 repayment plan.
Oak Creek Bankruptcy Lawyer Helps You Discharge Credit Card Debt
When you're in financial trouble, Steven R. McDonald will walk you through the process of filing for Chapter 7 or Chapter 13 bankruptcy to get you back on your feet. Contact him at his office in Oak Creek, WI for a free bankruptcy case assessment and consultation.
We provide credit card debt consultation services to clients in Oak Creek, Franklin, Greendale, Cudahy, New Berlin, Hales Corners, Racine, Muskego, Milwaukee, South Milwaukee, and beyond.
Return to Related News