How Can I Get Rid of Payday Loans?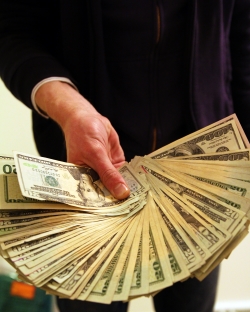 Discharge payday loans by filing for Chapter 7.
Overdue Payday Loans Can Be a Financial Nightmare
Payday loans are short-term unsecured loans providing a cash advance to borrowers at very steep interest rates. Borrowers, in theory, dedicate the income coming from their next paycheck to this new debt.
Unfortunately, when borrowers cannot pay the loan back quickly, the consequences can be disastrous. The high interest rate compounds upon a missed payment and becomes completely unmanageable.
Borrowers may end up paying fees to roll the loan over, if possible. The fees may rack up beyond the cost of the borrowed amount itself and put the borrower in even worse financial shape. A payday loan for $100.00 might grow to a $500.00 repayment very quickly.
Payday Loan Debt Can Be Eliminated by Chapter 7 Bankruptcy
Bankruptcy can be a good way to get rid of your payday loans. Payday loans are unsecured and may be relieved by filing for Chapter 7 bankruptcy. Chapter 13 bankruptcy also eliminates payday loan debt, for people who are behind on house or car payments, too.
Steven R. McDonald, a bankruptcy attorney located in Oak Creek and serving Franklin, St. Francis, Cudahy and the rest of the metro Milwaukee area, helps customers through difficult financial times. He can walk you through the complexities of Chapter 7 bankruptcy law and what it means for your financial future.
Filing for bankruptcy is an overwhelming and exhausting process if you tackle it on your own. Atty. McDonald can help you through it and get you back on track toward a brighter financial future.
Related:
The Best Way to Avoid Payday Loan Debt: Keep Away from Payday Loans
Of course, the best way to avoid having to pay back exorbitant interest payments is to simply stay away from payday loans in the first place.
High-interest loans are not the only form of quick cash. Short-term loans from a credit union or a cash advance from your credit card provider may also result in very high interest payments on the advance.
Don't take out another high interest loan. If you are past the point of no return and considering filing for bankruptcy, Steven R. McDonald, is here to help you through the process. His years of knowledge in Chapter 7 and Chapter 13 bankruptcy can guide you out of debt and provide you with a clean financial slate.
We are a debt relief agency. We help people file for bankruptcy relief under the Bankruptcy Code.
Return to Related News