Muskego Bankruptcy Lawyer
Chapter 7 and Chapter 13 Personal Bankruptcy in Wisconsin
Steven R. McDonald is an experienced bankruptcy lawyer specializing in Chapter 7 bankruptcy and Chapter 13 personal bankruptcies. With over 15 years of experience, Steven is highly experienced in bankruptcy law and has aided many individuals in Muskego in finding debt relief through bankruptcy.
The prospect of bankruptcy can seem frightening when faced with the crushing weight of unmanageable debt. Determining if bankruptcy is truly the best path forward is a major decision that causes understandable stress and anxiety. There are also costs involved with filing. Our responsibility is to evaluate if bankruptcy is appropriate for your situation, make the process as straightforward and affordable as possible, while clearly explaining each step in plain terms. We not only help guide you through the bankruptcy process - we also take care to ensure you thoroughly understand the journey. Our commitment is to provide both excellent legal counsel and peace of mind.
McDonald will make the process as easy and affordable as possible. You not only will be helped through the process, you'll also be given full understanding of every step along the way.
Experienced Muskego Bankruptcy Lawyer Helps You Discharge Debts
If endless creditor harassment has you feeling trapped under a mountain of debt, turn to an experienced bankruptcy attorney for guidance on finding relief. Bankruptcy lawyer Steven R. McDonald understands the nuances involved and helps Muskego clients assess the options to restart financial stability. Filing personal bankruptcy in Wisconsin is a major step warranting careful consideration of factors like:
The differences between Chapter 7 and Chapter 13 bankruptcy
Qualification criteria for protection from creditors
Steps involved in filing bankruptcy paperwork
Costs associated with bankruptcy proceedings
Long-term impacts on credit scores and borrowing
Strategies to rebuild finances post-bankruptcy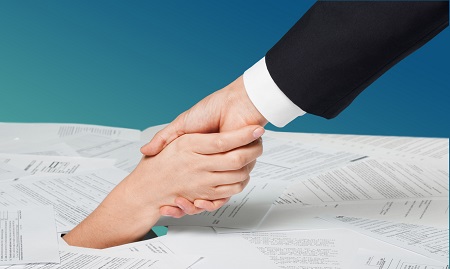 The Sooner You Start, the Sooner You Can Be Free
of Debt

If you are struggling with excessive credit card debt, harassing creditors or unable to keep up with payments, the seasoned Chapter 13 bankruptcy lawyers at our Muskego bankruptcy law firm can help you file for bankruptcy protection and debt relief. We understand this is an extremely difficult situation, which is why our compassionate bankruptcy attorneys will advise you on all your debt settlement options, including Chapter 13 bankruptcy costs/filings, debt consolidation and developing customized debt repayment plans.
Skip the harassment and have a fresh start earlier - avoiding the stress. Attorney McDonald treats every client with compassion and respect while explaining the process. Our goal is to make bankruptcy as fast, smooth and affordable as possible so you can soon enjoy debt-free stability again. Contact our Muskego Ch. 13 bankruptcy lawyers today for a free consultation and learn how our firm's dedicated bankruptcy attorneys can assist with your specific credit card debt and financial circumstances.Contact bankruptcy attorney Steven McDonald today to book a free Chapter 7 or 13 bankruptcy consultation in Muskego, WI.

Contact bankruptcy attorney Steven McDonald today to book a free Chapter 7 or 13 bankruptcy consultation in Muskego, WI.
Return to Related News