Racine WI Bankruptcy Lawyer
Chapter 7 and Chapter 13 Personal Bankruptcy in Wisconsin
Steven R. McDonald is an experienced bankruptcy lawyer specializing in Chapter 7 bankruptcy and Chapter 13 personal bankruptcies. With over a decade of experience, Steven knows the intricate challenges of bankruptcy law. His extensive knowledge has given him the power to help many people in the Racine, Wisconsin area become free from their debt through bankruptcy.
The tension and angst of insurmountable debt often lead people to be overwhelmed. A lot of times people are terrified of filing for bankruptcy due to the cost of bankruptcy and shameful image in the public eye. Recognizing the bankruptcy process is bewildering to many, our bankruptcy law firm aims to make things easy and affordable. We will explain the process as simply as possible so you can understand your options while also not having to break the bank.
Contact us today to...
Get expert advice and a guiding hand
Heal your financial wounds
Restore a sound financial future

From our law office in Oak Creek we proudly serve individuals in Racine, and the surrounding areas including Union Chruch, Kneeland, Hales Corners, Greendale, Wind Lake, Raymond, and more.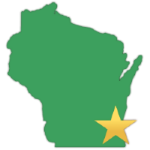 Serving Locations Throughout SE Wisconsin:
| | | | | |
| --- | --- | --- | --- | --- |
| Milwaukee | Oak Creek | Cudahy | Milwaukee | St. Francis |
| South Milwaukee | Union Grove | Racine | Kenosha | Greendale |
| Hales Corners | Muskego | Caledonia | Bay View | ...and more! |
Experienced Bankruptcy Lawyer Can Help You Discharge Debts
If you feel that creditors are constantly bothering you to repay your debt and you have no way of figuring it out yourself, you need a savvy bankruptcy lawyer to guide you through the difficult issues at hand. Attorney Steven R. McDonald can help you choose between many options, two of them being debt consolidation and debt settlement, that will help get your debts repaid and the creditors off your back for good.
Article: 8 things you MUST know before filing bankruptcy in WI
Why File for Bankruptcy?
The term bankruptcy carries a lot of weight, and people think filing for bankruptcy will be their financial death, when this is almost certainly not the case. Some reasons to file are:
Certain exemptions can allow you to keep your property.
You could be relieved of your credit card debt and/or medical bills.
The path to rebuilding your credit score becomes more clear.
The Sooner You Start, the Sooner You Can Be Free of Debt
We treat all our clients with respect and make the process as fast, stress-free and affordable as possible. Get started today with a FREE consultation.
Return to Related News